Do you know the rates at which our students experience racial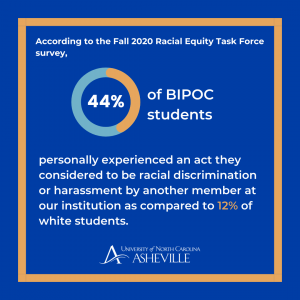 discrimination at UNC Asheville? According to the Fall 2020 Racial Equity Task Force Survey, 44% of BIPOC students personally experienced an act they considered to be racial discrimination or harassment by another member at our institution as compared to 12% of white students.
In an effort to work toward a more equitable environment where fewer students and other members of campus face racial harassment or discrimination, the Office of Multicultural Affairs, Human Resources, and Institutional Equity is undergoing a review of the Bias Incident Response (BIRT) program. BIRT strives to promote a safe, hate-free environment where all people can live, work, and learn. The team uses restorative practices to promote care, education, and campus restoration. Their current work focuses on program awareness, one way they are achieving that is by working with the Student Government Association. SGA recently passed a resolution and is working with the Faculty Senate to ensure communication about the BIRT program is included in the course syllabus.
BIRT is just one of a number of things UNC Asheville is doing to address racial discrimination and harassment on our campus.