In a 2019 survey of first year students and seniors, we learned that they felt anxious, overwhelmed, and depressed more frequently than students at peer schools.
55% of first years and 67% of seniors frequently felt anxious (compared to 43% and 45%, respectively, for peer groups)
61% of first years and 66% of seniors frequently felt overwhelmed by all they had to do (43% and 50%, respectively, for peer groups)
87% of first years and 83% of seniors frequently or occasionally felt depressed (compared to 70% and 70%, respectively, for peer groups)
The pandemic has heightened these feelings among our students. Regular exercise can have a profoundly positive impact on depression, anxiety, and ADHD. It also relieves stress, improves memory, helps you sleep better, and boosts your overall mood. Research shows that exercise is Medicine, so Campus Recreation and Health & Counseling collaborated to create a referral program to help students get moving and improve their mental health.
Through this collaboration, Health & Counseling provides s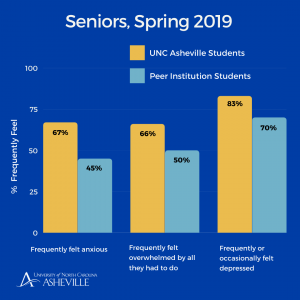 students who might benefit from exercise referrals to Campus Recreation a free starter package that includes 3 sessions with a movement coach/trainer, a fitness kit, and a pedometer. Students in isolation/quarantine are also eligible for the free starter package, and all students, regardless of having a referral, are eligible for half off the starter package. Virtual, in-person, and hybrid sessions are available based on the needs and interests of each student. The North Carolina Collaboratory Policy Grant UNC Asheville received helped fund the program. Questions? Give Blake Covington a shout, bcovingt@unca.edu.